A Note About Website Availability
Titles listed on our website are not necessarily in stock at our physical storefront. If a book says "usually ships in 1-5 days," that means it should be available at our distributor's warehouses, but it does not indicate whether we have the book in stock at the shop. We have some lists on our home page of books that are usually on the shelves, but those are manually updated by us. It is not currently possible for us to manually update every title on the site with its in-store availability. The fastest way to check on a title or two is to give us a call at 617-734-7323. If you have a longer list, or if you have a little more time to wait for a response, send us an email or place an online order. Thank you for understanding!
You are here
Back to top
Artie and the Wolf Moon (Paperback)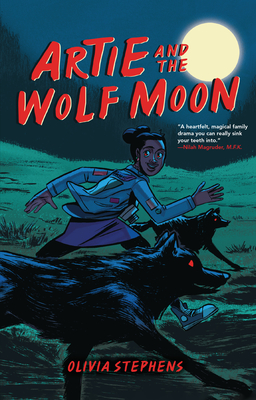 $16.99

Usually Ships in 1-5 Days
Description
---
"A heartfelt, magical family drama you can really sink your teeth into." --Nilah Magruder, M.F.K.
After sneaking out against her mother's wishes, Artie Irvin spots a massive wolf--then watches it don a bathrobe and transform into her mom. Thrilled to discover she comes from a line of werewolves, Artie asks her mom to share everything--including the story of Artie's late father. Her mom reluctantly agrees. And to help Artie figure out her own wolflike abilities, her mom recruits some old family friends.

Artie thrives in her new community and even develops a crush on her new friend Maya. But as she learns the history of werewolves and her own parents' past, she'll find that wolves aren't the scariest thing in the woods--vampires are.
A breath of fresh air. . . . Full of robust characters, dynamic panels, and immersive landscapes, this coming-of-age story of family and the supernatural is one any reader will have a hard time putting down.--Shannon Wright, Twins

A book of cycles--love, loss, reunion, redemption. Readers will thoroughly enjoy getting lost in the beautifully rendered forests.--Wendy Xu, Mooncakes

A love letter to the power of family to help you grow, heal, and find yourself. . . . As rich and immersive as a big family dinner.--Melanie Gillman, Stage Dreams

"An absolutely gorgeous, thrilling read."--Blue Delliquanti, O Human Star

"Heartbreaking and heart mending."--Priya Huq, Piece by Piece: The Story of Nisrin's Hijab