A Note About Website Availability
Titles listed on our website are not necessarily in stock at our physical storefront. If a book says "usually ships in 1-5 days," that means it should be available at our distributor's warehouses, but it does not indicate whether we have the book in stock at the shop. We have some lists on our home page of books that are usually on the shelves, but those are manually updated by us. It is not currently possible for us to manually update every title on the site with its in-store availability. The fastest way to check on a title or two is to give us a call at 617-734-7323. If you have a longer list, or if you have a little more time to wait for a response, send us an email or place an online order. Thank you for understanding!
You are here
Back to top
Introducing Teddy: A gentle story about gender and friendship (Hardcover)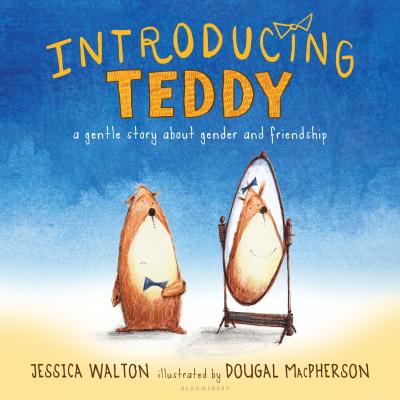 $17.99

Usually Ships in 1-5 Days
Description
---
Introducing Teddy introduces the youngest readers to understanding gender identity and transition in an accessible and heart-warming story about being true to yourself and being a good friend.

Errol and his teddy, Thomas, are best friends who do everything together. Whether it's riding a bike, playing in the tree house, having a tea party, or all of the above, every day holds something fun to do.

One sunny day, Errol finds that Thomas is sad, even when they are playing in their favorite ways. Errol can't figure out why, until Thomas finally tells Errol what the teddy has been afraid to say: "In my heart, I've always known that I'm a girl teddy, not a boy teddy. I wish my name was Tilly, not Thomas." And Errol says, "I don't care if you're a girl teddy or a boy teddy! What matters is that you are my friend."
About the Author
---
Jessica Walton lives with her wife, son, and cats in Melbourne, Australia. She was inspired to write Introducing Teddy after her father transitioned into the woman she had always been on the inside, and Jess wanted to find a way to tell that story to her young son. A former secondary teacher, Jess is passionate about literature, board games, the ukulele, and funky prosthetic legs (her current one features green dragon scales). This is her first book.
www.facebook.com/introducingteddy

Dougal MacPherson once drew a truck on a rainy Sunday afternoon to entertain his young son. Since then, he has illustrated for tech websites and conferences and now, a children's book. Dougal lives with his wife, son, daughter and a cat called Monster, in Australia. He documents the antics of his family through fifteen-minute drawings in a popular Instagram account.
@15mindrawings
Praise For…
---
"Walton gently explains Tilly's gender, which is a small ripple in the lives of children at play, and subtly pokes at gender roles with Errol's tea parties and Ava's robot building. MacPherson's illustrations are sweet, with a sketchy, contemporary style. . . . This book beautifully changes the narrative of gender and gender roles, but fair warning--the hug scene might bring a tear or two." - starred review, Kirkus Reviews

"The book's spirit of easygoing openness makes it a worthwhile resource. Debut artist MacPherson's ink-and-watercolor illustrations are striking for their emotional immediacy and compositional polish, and he effortlessly moves from the poignancy of the opening pages to breezy good times." - Publishers Weekly

"Walton's matter-of-fact exploration of gender doesn't get into any particulars, focusing instead on the importance of friendship and respect. The final pages, during which Tilly and Errol do exactly the same things they did before, reassure kiddos that changing gender won't change who a person (or bear) fundamentally is ideal for the target audience. A useful resource for adults broaching conversations about transgender issues with little ones." - Booklist