A Note About Website Availability
Titles listed on our website are not necessarily in stock at our physical storefront. If a book says "usually ships in 1-5 days," that means it should be available at our distributor's warehouses, but it does not indicate whether we have the book in stock at the shop. We have some lists on our home page of books that are usually on the shelves, but those are manually updated by us. It is not currently possible for us to manually update every title on the site with its in-store availability. The fastest way to check on a title or two is to give us a call at 617-734-7323. If you have a longer list, or if you have a little more time to wait for a response, send us an email or place an online order. Thank you for understanding!
You are here
Back to top
C'Est Bon de Faire Des Bonds = Hop on Pop (Hardcover)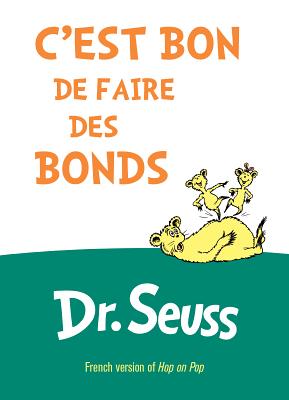 $12.95
Email or call for price
Description
---
THE BELOVED ILLUSTRATIONS OF DR. SEUSS PLUS AN ALL-NEW FRENCH TRANSLATION Publi e en anglais sous le titre original Hop on Pop, cette nouvelle traduction fran aise restitue avec bonheur l'univers des contes du Dr.Seuss, avec ses jeux jubilatoires sur les mots et les sons. C'est Bon de faire des Bonds est un premier livre id al pour tous ceux qui d butent le fran ais. Les enfants comme les parents s'amuseront au fil des pages d couvrir les personnages improbables et hilarants du Dr.Seuss, ses illustrations d sormais c l bres et le texte qui ne cesse de jongler avec les mots: "Tonton sur un b ton", des "poissons polissons" ou une "souris qui sourit". C'est Bon de faire des Bonds amusera tous les jeunes coliers qui s'initient au fran ais, son vocabulaire et sa prononciation. Une base ludique et originale pour d marrer la lecture de cette nouvelle langue

About the Author
---
Dr. Seuss (1904-1991) published over 40 children's books, including the best-selling classics Green Eggs and Ham, The Cat in the Hat, and Horton Hears a Who. His work has been adapted numerous times, including eleven television specials, three feature films, and a Broadway musical.