A Note About Website Availability
Titles listed on our website are not necessarily in stock at our physical storefront. If a book says "usually ships in 1-5 days," that means it should be available at our distributor's warehouses, but it does not indicate whether we have the book in stock at the shop. We have some lists on our home page of books that are usually on the shelves, but those are manually updated by us. It is not currently possible for us to manually update every title on the site with its in-store availability. The fastest way to check on a title or two is to give us a call at 617-734-7323. If you have a longer list, or if you have a little more time to wait for a response, send us an email or place an online order. Thank you for understanding!
You are here
Back to top
Sit with Me: Meditation for Kids in Seven Easy Steps (Hardcover)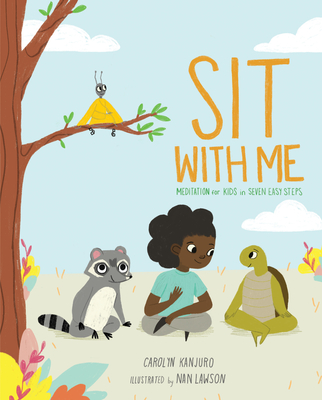 $17.95

Usually Ships in 1-5 Days
Description
---
You can squat like a frog or lounge like a cat--but if you want to sit like a buddha, there are seven key steps for taking your seat.

Sit with Me invites kids of all ages to learn meditation through playful rhymes and adorable illustrations. Justa Bug describes the seven-point meditation posture--from the top of the head to the bottom of the feet--in an easy and accessible way. With a spine straight like coins stacked on a plate and shoulders back like a vulture in flight, kids will learn the basics of sitting through encouraging verse. With a little practice, Sit with Me will help everyone in the family learn how to meditate easy and free.
About the Author
---
CAROLYN KANJURO is a writer and creative collaborator. She has taught meditation, theater, and contemplative archery to children throughout North America.

NAN LAWSON is an illustrator who has worked on a wide variety of books from YA book covers to lift-the-flap board books. She's also a regular contributor to several art galleries across the country. During her free time she loves to read books while sipping coffee and looking out at the mountains from her cozy living room. Nan lives in Los Angeles with her husband, two-year-old daughter, and two lazy cats.
Praise For…
---
"Justa Bug, a gray insect wearing saffron-colored robes and wielding a pointer, serves as the patient narrator of this step-by-step instructive picture book, aiming to teach readers 'seven-point posture... if you want to be a buddha, too.' A fun primer for those interested in Buddhist meditation."—Publishers Weekly