A Note About Website Availability
Titles listed on our website are not necessarily in stock at our physical storefront. If a book says "usually ships in 1-5 days," that means it should be available at our distributor's warehouses, but it does not indicate whether we have the book in stock at the shop. We have some lists on our home page of books that are usually on the shelves, but those are manually updated by us. It is not currently possible for us to manually update every title on the site with its in-store availability. The fastest way to check on a title or two is to give us a call at 617-734-7323. If you have a longer list, or if you have a little more time to wait for a response, send us an email or place an online order. Thank you for understanding!
You are here
Back to top
A Family Is a Family Is a Family (Hardcover)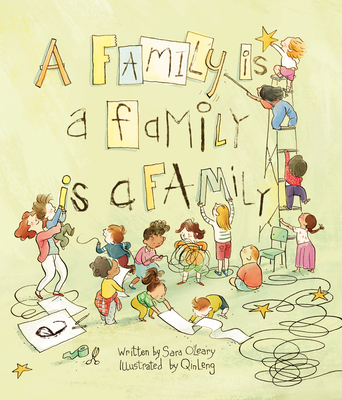 $17.95
Email or call for price
Description
---
When a teacher asks the children in her class to think about what makes their families special, the answers are all different in many ways -- but the same in the one way that matters most of all. One child is worried that her family is just too different to explain, but listens as her classmates talk about what makes their families special. One is raised by a grandmother, and another has two dads. One is full of stepsiblings, and another has a new baby. As one by one, her classmates describe who they live with and who loves them -- family of every shape, size and every kind of relation -- the child realizes that as long as her family is full of caring people, her family is special. A warm and whimsical look at many types of families written by award-winning author Sara O'Leary, A Family is a Family springs to life with quirky and sweet illustrations by Qin Leng.

About the Author
---
Sara O'Leary is a writer of fiction for both adults and children. She is the author of the award-winning series of Henry books -- When You Were Small, Where You Came From and When I Was Small -- and This is Sadie, all illustrated by Julie Morstad, and You Are One, illustrated by Karen Klassen. A graduate of the UBC Creative Writing Program, she has taught screenwriting and writing for children at Concordia University in Montreal. Qin Leng lives and works as a designer and illustrator in Toronto. She has published numerous picture books in Canada, the United Kingdom, the United States, France, Sweden, Hong Kong and South Korea. She has also illustrated for Save the Children and UNICEF.