A Note About Website Availability
Titles listed on our website are not necessarily in stock at our physical storefront. If a book says "usually ships in 1-5 days," that means it should be available at our distributor's warehouses, but it does not indicate whether we have the book in stock at the shop. We have some lists on our home page of books that are usually on the shelves, but those are manually updated by us. It is not currently possible for us to manually update every title on the site with its in-store availability. The fastest way to check on a title or two is to give us a call at 617-734-7323. If you have a longer list, or if you have a little more time to wait for a response, send us an email or place an online order. Thank you for understanding!
You are here
Back to top
The Haunted Lake (Hardcover)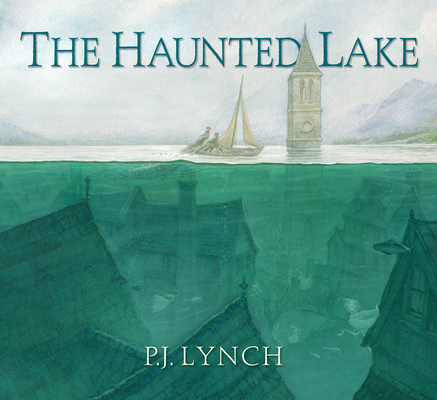 $17.99

Usually Ships in 1-5 Days
Description
---
In famed author-illustrator P.J. Lynch's gorgeous tale, he creates two worlds—underwater and above—to tell an epic and haunting love story.

Jacob and his father are the only people who fish Lake Spetzia, which was formed when the river was dammed and their town was flooded. The villagers say the lake is haunted, but Jacob and his father don't want to leave, because Jacob's mother is buried in the cemetery below the water. As Jacob grows up, a village girl named Ellen falls in love with him, and he with her. But before they are married, Jacob disappears—lured underwater by the ghosts who inhabit the sunken village. Years go by, with Jacob held captive by the watery spirits and Ellen never giving up hope that she will find him, until a fateful night when Jacob sees the light of Ellen's boat floating above. Can he break free and reach the surface? Masterful illustrations alive with achingly expressive characters and eerie underwater light bring readers into acclaimed creator P.J. Lynch's rich world of love, loss, and hope.
About the Author
---
P.J. Lynch, one of the most accomplished children's book creators working today, has won the Kate Greenaway Medal twice and the Christopher Medal three times. He is the author-illustrator of The Boy Who Fell Off the Mayflower, or John Howland's Good Fortune. His meticulous research brings impeccable detail to the twenty books he has illustrated, including The Christmas Miracle of Jonathan Toomey by Susan Wojciechowski, When Jessie Came Across the Sea by Amy Hest, A Christmas Carol by Charles Dickens, and Mysterious Traveler by Mal Peet and Elspeth Graham. P.J. Lynch lives in Dublin.
Praise For…
---
This comfortably eerie ghost/undying-love story is unvarnished and competently told, but the illustrations make it sublime. Created with watercolor and gouache—a choice that embraces the story's watery setting...Satisfying and visually superb.
—Kirkus Reviews

With atmospheric spreads and suitably eerie prose, Lynch (Patrick and the President) spins a long-winded yarn about a drowned village...it offers a potent escapist fantasy, especially Lilith's underwater world, which radiates goth allure as fish swim through the bedroom, curtains billow, and a green fire burns magically in the grate.
—Publishers Weekly

Watercolor and gouache art plays effectively with light as it shimmers along the top of the lake or creepily glows from under it, and the fluid greenish gloom of the underwater village contrasts with the hearty Irish landscape above. This could be an entertaining read for youngsters who warm to folkloric supernatural stories with just enough chill to make the happy ending satisfying.
—Bulletin of the Center for Children's Books

Mr. Lynch's mesmerizing watercolor and gouache paintings are divided between the 19th-century world above Lake Spetzia and the village beneath it that was years ago drowned to create a reservoir… his pictures are masterly. Readers ages 7-12 will not soon forget these creepy and stirring scenes.
—The Wall Street Journal