A Note About Website Availability
Titles listed on our website are not necessarily in stock at our physical storefront. If a book says "usually ships in 1-5 days," that means it should be available at our distributor's warehouses, but it does not indicate whether we have the book in stock at the shop. We have some lists on our home page of books that are usually on the shelves, but those are manually updated by us. It is not currently possible for us to manually update every title on the site with its in-store availability. The fastest way to check on a title or two is to give us a call at 617-734-7323. If you have a longer list, or if you have a little more time to wait for a response, send us an email or place an online order. Thank you for understanding!
You are here
Back to top
Have You Ever Seen a Flower? (Hardcover)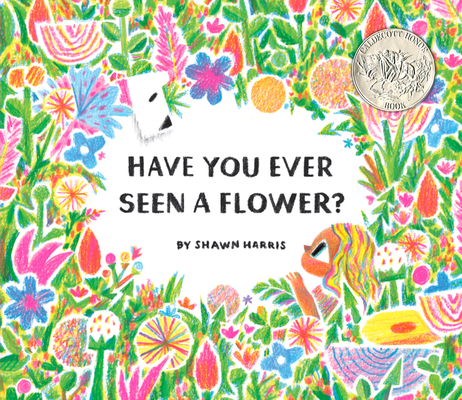 $17.99

Usually Ships in 1-5 Days
Description
---
Have You Ever Seen a Flower? is an enchanting picture book exploring the relationship between childhood and nature. In this simple yet profound story, one child experiences a flower with all five senses—from its color to its fragrance to the entire universe it evokes—revealing how a single flower can expand one's perspective in incredible ways.

• Authorial debut of award-winning illustrator Shawn Harris
• Reminds readers to appreciate the beauty of the world
• Full of bright, stunning illustrations

Have You Ever Seen a Flower? is a beautiful exploration of perception, the environment, and humanity.

• Perfect read-aloud with thought-provoking questions
• Ideal for nature lovers
• For fans of The Little Prince, The Giving Tree, Not a Box, and The Very Hungry Caterpillar
About the Author
---
Shawn Harris is an artist and musician who lives and works in Half Moon Bay, California. His first picture book, Her Right Foot, by Dave Eggers, was the recipient of seven starred reviews. He is also the illustrator of Dave Eggers's What Can a Citizen Do? and Colin Meloy's Everyone's Awake. This is his authorial debut.
Praise For…
---
[A] stunning tour de force. . ."—The New York Times

"The pictures have a rich visual texture, vibrant color, and a naive style, which together imply a child as ostensible artist. This effect is well aligned with the playfully inquisitive text, with rhythm and repetition akin to books by Margaret Wise Brown and Ruth Krauss. . . . Have you ever seen a book quite like this? Not likely."—The Horn Book Magazine

"'Have you ever seen a flower?' a voice asks, then presses further: 'I mean really...// seen a flower?'. . . The persistent questioning is matched by the visual intensity of the spreads, colored-pencil drawings bursting with energy, angular shapes in rainbow hues that are bounded by crisp-edged negative space. . . . With assurance and passion in his solo debut, Harris (A Polar Bear in the Snow) connects readers to the stirrings of life in all its forms."-Publishers Weekly, starred review

"Harris' colored-pencil illustrations are full of energy and spontaneity. His use of patterning and graphic symbology evoke Oaxacan design, yet the style is all his own. The text is equally enthusiastic. . . readers will feel themselves stretch and bloom. A visual feast teeming with life."-Kirkus Reviews

"Have You Ever Seen a Flower?. . . a forthcoming picture book by Shawn Harris [features] illustrations so dazzling that their vibrancy hasn't been seen since, well, the last picture book Mr. Harris illustrated, Colin Meloy's double-espresso Everyone's Awake. . . . From this book's front cover we know we're in for a blast of hue. . . 'Have you ever seen a flower?' we read. . . "I mean really . . . seen a flower?" At this point both the reader and the child in the book are suffused in a giddy landscape of electric pinks, greens, purples and orange-eye-watering colors that, incredibly, seem to become more intense as the book goes on. Anyone who has ever stopped to marvel at a single flower will grasp what Mr. Harris is trying to do here: He wants children to look closely, and he wants to evoke the exquisite beauty of plants in bloom. . . [D]eliciously psychedelic. . ."-The Wall Street Journal

"The text takes readers on an imaginative journey inside flowers, activating all the senses and gradually thinning the distance between the human body and nature, until the two become one. . . . [A]stounding, dense colored-pencil illustrations [extend] to the metaphoric text, which reaches for an odd sort of physical intimacy with the reader. Creative, dazzling, and fearless, Harris' authorial debut marks an auspicious start to his picture-book career."-Booklist

"Some books provide a chance to escape, while others offer space for contemplation and reflection. It's the rare book that does both. Shawn Harris' Have You Ever Seen a Flower? transforms a trip into the mountains into a spirited voyage into our very consciousness. . . . Have You Ever Seen a Flower? is an invitation to pause and imagine the worlds around us and inside us. It's joy, color and hopefulness will ignite the imagination of anyone lucky enough to experience its magic."-BookPage, starred review