A Note About Website Availability
Titles listed on our website are not necessarily in stock at our physical storefront. If a book says "usually ships in 1-5 days," that means it should be available at our distributor's warehouses, but it does not indicate whether we have the book in stock at the shop. We have some lists on our home page of books that are usually on the shelves, but those are manually updated by us. It is not currently possible for us to manually update every title on the site with its in-store availability. The fastest way to check on a title or two is to give us a call at 617-734-7323. If you have a longer list, or if you have a little more time to wait for a response, send us an email or place an online order. Thank you for understanding!
You are here
Back to top
Monster Blood Is Back (Goosebumps SlappyWorld #13) (Paperback)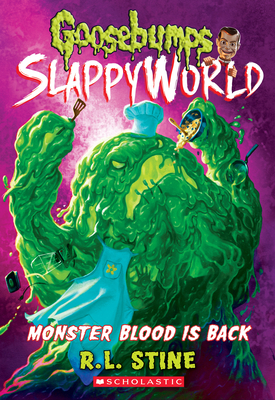 $6.99

Usually Ships in 1-5 Days
Description
---
This is Slappy's world -- you only scream in it!
Sascha Nelson and her best friend Nicole Miller love to cook! After school, they spend their time concocting new dishes in the kitchen. So when their favorite TV show Kids Big Chef Food Fights comes to their school for a special competition, they're ecstatic! But with school cheaters Ashli and Diggs also in the show, things don't seem as fun anymore. When Sascha and Nicole buy a mysterious can called Monster Blood is Back, they use it to get back at Ashli and Diggs. But as the Monster Blood grows and grows, can the two get the slime under control or will it swallow up the competition?
About the Author
---
R.L. Stine is the creator of the bestselling Goosebumps series, which has more than 400 million copies in print worldwide and celebrated 25 years in 2017. Goosebumps is one of the bestselling children's series of all-time and inspired a popular television show, as well as a feature film starring Jack Black that opened at #1 at the box office. His other popular children's books include the series Fear Street, Mostly Ghostly, The Nightmare Room, and Rotten School, and his first picture book, with Marc Brown, The Little Shop of Monsters. R.L. Stine lives in New York City. You can connect with him on Twitter at @RL_Stine or Facebook: facebook.com/rlstine. For more information, visit rlstine.com and www.scholastic.com/goosebumps.