A Note About Website Availability
Titles listed on our website are not necessarily in stock at our physical storefront. If a book says "usually ships in 1-5 days," that means it should be available at our distributor's warehouses, but it does not indicate whether we have the book in stock at the shop. We have some lists on our home page of books that are usually on the shelves, but those are manually updated by us. It is not currently possible for us to manually update every title on the site with its in-store availability. The fastest way to check on a title or two is to give us a call at 617-734-7323. If you have a longer list, or if you have a little more time to wait for a response, send us an email or place an online order. Thank you for understanding!
You are here
Back to top
The Moon Within (Scholastic Gold) (Paperback)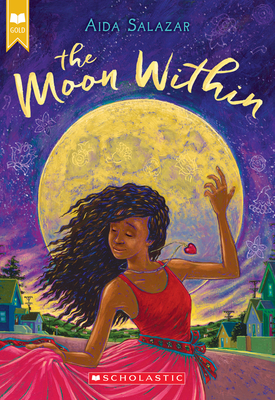 $7.99

Usually Ships in 1-5 Days
Spring 2019 Kids Indie Next List
---
"An absolute gem! Aida Salazar perfectly captures the anxiety, excitement, and embarrassment that come with middle school. Celi slowly grows into a better understanding of her mother's hopes for her and what it means to be a good friend. Her moon ceremony — at first a strange and new idea —becomes an opportunity to show her strength and the person she is becoming. Beautiful and powerful."
— Cecilia Cackley, East City Bookshop, Washington, DC
Description
---
The dazzling story of a girl navigating friendship, family, and growing up, an Are You There God, It's Me Margaret? for the modern day, from debut author Aida Salazar.
****Four starred reviews!****
* "A worthy successor to Are You There God? It's Me, Margaret set in present-day Oakland." -- Kirkus Reviews, starred review
Celi Rivera's life swirls with questions. About her changing body. Her first attraction to a boy. And her best friend's exploration of what it means to be genderfluid.
But most of all, her mother's insistence she have a moon ceremony when her first period arrives. It's an ancestral Mexica ritual that Mima and her community have reclaimed, but Celi promises she will NOT be participating. Can she find the power within herself to take a stand for who she wants to be?
A dazzling story told with the sensitivity, humor, and brilliant verse of debut talent Aida Salazar.
About the Author
---
Aida Salazar is an award-winning author and arts activist whose writings for adults and children explore issues of identity and social justice. She is the author of the middle-grade verse novels The Moon Within (International Latino Book Award Winner), Land of the Cranes, and the biography picture book Jovita Wore Pants: The Story of a Revolutionary Fighter. With Yamile Saied Méndez, she is slated to coedit Calling the Moon, a middle-grade anthology on menstruation by writers of color. She is a founding member of Las Musas, a Latinx kidlit debut author collective. Her short story "By the Light of the Moon" was adapted into a ballet production by the Sonoma Conservatory of Dance and is the first Xicana-themed ballet in history. She lives with her family of artists in a teal house in Oakland, California.
Praise For…
---
Distinctions and Praise for The Moon Within:
International Latino Book Award Finalist
NCTE Notable Poetry Book
A Spring 2019 Kids Indie Next List selection
* "A worthy successor to Are You There God? It's Me, Margaret set in present-day Oakland.... Salazar's verse novel is sensitive and fresh.... An authentically middle school voice and diverse Latinx cast make this book a standout."-Kirkus Reviews, starred review
* "An excellent addition for upper middle grade and middle school readers, especially for maturing tweens in the midst of puberty."-School Library Journal, starred review
"This story is told in beautiful poems.... A lovely, relatable story....The words really use up the space on the pages in creative ways, and the author reveals cultural aspects of Latinx (especially Xicana) and Caribbean peoples in rich detail." -Booklist
"Lyrical.... The characters leap to life and eloquently evoke the passion and pain of a girl's coming-of-age. Absolutely beautiful, reverent, and intensely personal, the book would make a valued gift for pre-teen readers, especially a young Latina." -School Library Connection
"This is a fascinating tale that blends ancestral traditions from two cultures, while portraying modern dilemmas. Salazar's poetry is as lovely and graceful as the dance scenes."-Margarita Engle, National Young People's Poet Laureate and Newbery Honor winning author of The Surrender Tree
"With conga-pulsed lyrics, Aida Salazar pulls us into the coming of age of eleven year Celi. She initiates readers into the conversation of Bomba, the girl-woman circle, divine twin energies and the many moon-tide powers of a Latina pre-teen. This is a book whose form and content, vision and depth, I find revolutionary and culturally ecstatic. In these times, here is the liberation verse our youth and all have been waiting for - Brava-Bravo!" -Juan Felipe Herrera, U.S. Poet Laureate and author of Jabberwalking
"Aida Salazar has reached deep into our indigenous past to explore in beautiful, poignant poetry what it means to become a woman at the intersection of community and self. Rooted in ancestral lore yet vibrantly modern, The Moon Within is a touching, powerful, and important novel in verse." -David Bowles, Pura Belpré Honor-winning author of The Smoking Mirror
"In a vivid, magical debut, Aida Salazar's lyrical poetry deftly pulls you into Celi's vibrant world as she reluctantly dances towards womanhood, adjusting to the drumbeats of first love and true friendship while exploring her ancestral roots as she finds her role within family and community." - Naheed H. Senzai, award-winning author of Shooting Kabul and Escape From Aleppo
"Lovely and amazing...a heartbreaker, in every wonderful way. Salazar's vivid and accessible verse brings us the coming-of-age story we've been longing for. Poignant, funny, and deeply moving, The Moon Within is a story told with an abundance of love and respect-a gift straight from the center of Salazar's heart to readers everywhere." -- Olugbemisola Rhuday-Perkovich, author of Eighth-Grade Superzero and co-author of Naomis Too
* "A worthy successor to
Are You There God? It's Me, Margaret
set in present-day Oakland.... Salazar's verse novel is sensitive and fresh.... An authentically middle school voice and diverse Latinx cast make this book a standout."-
Kirkus Reviews
, starred review* "An excellent addition for upper middle grade and middle school readers, especially for maturing tweens in the midst of puberty."-
School Library Journal
, starred review"This story is told in beautiful poems.... A lovely, relatable story....The words really use up the space on the pages in creative ways, and the author reveals cultural aspects of Latinx (especially Xicana) and Caribbean peoples in rich detail." -
Booklist
"Lyrical.... The characters leap to life and eloquently evoke the passion and pain of a girl's coming-of-age. Absolutely beautiful, reverent, and intensely personal, the book would make a valued gift for pre-teen readers, especially a young Latina." -
School Library Connection
"This is a fascinating tale that blends ancestral traditions from two cultures, while portraying modern dilemmas. Salazar's poetry is as lovely and graceful as the dance scenes."-Margarita Engle, National Young People's Poet Laureate and Newbery Honor winning author of
The Surrender Tree
"With conga-pulsed lyrics, Aida Salazar pulls us into the coming of age of eleven year Celi. She initiates readers into the conversation of Bomba, the girl-woman circle, divine twin energies and the many moon-tide powers of a Latina pre-teen. This is a book whose form and content, vision and depth, I find revolutionary and culturally ecstatic. In these times, here is the liberation verse our youth and all have been waiting for - Brava-Bravo!" -Juan Felipe Herrera, U.S. Poet Laureate and author of
Jabberwalking
"Aida Salazar has reached deep into our indigenous past to explore in beautiful, poignant poetry what it means to become a woman at the intersection of community and self. Rooted in ancestral lore yet vibrantly modern, The Moon Within is a touching, powerful, and important novel in verse." -David Bowles, Pura Belpré Honor-winning author of
The Smoking Mirror
"In a vivid, magical debut, Aida Salazar's lyrical poetry deftly pulls you into Celi's vibrant world as she reluctantly dances towards womanhood, adjusting to the drumbeats of first love and true friendship while exploring her ancestral roots as she finds her role within family and community." - Naheed H. Senzai, award-winning author of
Shooting Kabul
and
Escape From Aleppo
"Lovely and amazing...a heartbreaker, in every wonderful way. Salazar's vivid and accessible verse brings us the coming-of-age story we've been longing for. Poignant, funny, and deeply moving, The Moon Within is a story told with an abundance of love and respect-a gift straight from the center of Salazar's heart to readers everywhere." -- Olugbemisola Rhuday-Perkovich, author of
Eighth-Grade Superzero
and co-author of
Naomis Too