A Note About Website Availability
Titles listed on our website are not necessarily in stock at our physical storefront. If a book says "usually ships in 1-5 days," that means it should be available at our distributor's warehouses, but it does not indicate whether we have the book in stock at the shop. We have some lists on our home page of books that are usually on the shelves, but those are manually updated by us. It is not currently possible for us to manually update every title on the site with its in-store availability. The fastest way to check on a title or two is to give us a call at 617-734-7323. If you have a longer list, or if you have a little more time to wait for a response, send us an email or place an online order. Thank you for understanding!
You are here
Back to top
Rick (Hardcover)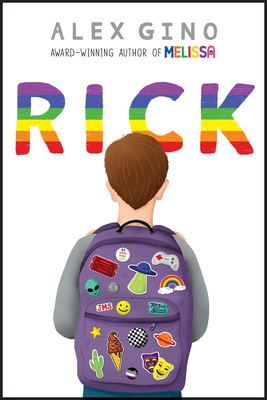 $17.99

Usually Ships in 1-5 Days
Description
---
From the award-winning author of George, the story of a boy named Rick who needs to explore his own identity apart from his jerk of a best friend.Rick's never questioned much. He's gone along with his best friend Jeff even when Jeff's acted like a bully and a jerk. He's let his father joke with him about which hot girls he might want to date even though that kind of talk always makes him uncomfortable. And he hasn't given his own identity much thought, because everyone else around him seemed to have figured it out.But now Rick's gotten to middle school, and new doors are opening. One of them leads to the school's Rainbow Spectrum club, where kids of many genders and identities congregate, including Melissa, the girl who sits in front of Rick in class and seems to have her life together. Rick wants his own life to be that . . . understood. Even if it means breaking some old friendships and making some new ones.As they did in their groundbreaking novel GEORGE, in RICK, award-winning author Alex Gino explores what it means to search for your own place in the world . . . and all the steps you and the people around you need to take in order to get where you need to be.
About the Author
---
Alex Gino loves glitter, ice cream, gardening, awe-ful puns, and stories that reflect the diversity and complexity of being alive. George was their first novel. George was a winner of the Children's Stonewall Award, the Lambda Literary Award, and the Children's Choice Book Awards, among a host of others. George was also featured on several Best of the Year lists. For more about Alex, please visit alexgino.com.
Praise For…
---
Praise for You Don't Know Everything, Jilly P!:* "Gino's sophomore effort is every bit as affecting and important as their first novel, George." -- School Library Journal, starred review* "[You Don't Know Everything, Jilly P!'s] thoughtful handling of characters and dynamics offers fodder for further discussion about privilege in all its forms." -- Publishers Weekly, starred review* "A necessary and rewarding addition to any middle-grade collection." -- Kirkus Reviews, starred reviewPraise for George:Winner of the Children's Stonewall AwardWinner of the Lambda Literary AwardA Children's Choice Book Awards Debut Author* "Profound, moving, and -- as Charlotte would say -- radiant, this book will stay with anyone lucky enough to find it." -- Publishers Weekly, starred review* "Warm, funny, and inspiring." -- Kirkus Reviews, starred review* "There is pain in George, but not without the promise of a better tomorrow." -- School Library Journal, starred review* "George is an appealing, thoroughly believable character and her best friend Kelly adds humor and zest." -- Booklist, starred review

Praise for You Don't Know Everything, Jilly P!:* "Gino's sophomore effort is every bit as affecting and important as their first novel, George." -- School Library Journal, starred review* "[You Don't Know Everything, Jilly P!'s] thoughtful handling of characters and dynamics offers fodder for further discussion about privilege in all its forms." -- Publishers Weekly, starred review* "A necessary and rewarding addition to any middle-grade collection." -- Kirkus Reviews, starred reviewPraise for George:Winner of the Children's Stonewall AwardWinner of the Lambda Literary AwardA Children's Choice Book Awards Debut Author* "Profound, moving, and -- as Charlotte would say -- radiant, this book will stay with anyone lucky enough to find it." -- Publishers Weekly, starred review* "Warm, funny, and inspiring." -- Kirkus Reviews, starred review* "There is pain in George, but not without the promise of a better tomorrow." -- School Library Journal, starred review* "George is an appealing, thoroughly believable character and her best friend Kelly adds humor and zest." -- Booklist, starred review