A Note About Website Availability
Titles listed on our website are not necessarily in stock at our physical storefront. If a book says "usually ships in 1-5 days," that means it should be available at our distributor's warehouses, but it does not indicate whether we have the book in stock at the shop. We have some lists on our home page of books that are usually on the shelves, but those are manually updated by us. It is not currently possible for us to manually update every title on the site with its in-store availability. The fastest way to check on a title or two is to give us a call at 617-734-7323. If you have a longer list, or if you have a little more time to wait for a response, send us an email or place an online order. Thank you for understanding!
You are here
Back to top
BOX: Henry Brown Mails Himself to Freedom (Hardcover)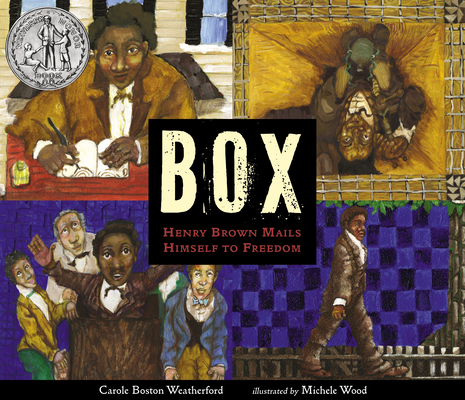 $17.99

Usually Ships in 1-5 Days
Description
---
A 2021 Newbery Honor Book

In a moving, lyrical tale about the cost and fragility of freedom, a New York Times best-selling author and an acclaimed artist follow the life of a man who courageously shipped himself out of slavery.

What have I to fear?
My master broke every promise to me.
I lost my beloved wife and our dear children.
All, sold South. Neither my time nor my body is mine.
The breath of life is all I have to lose.
And bondage is suffocating me.

Henry Brown wrote that long before he came to be known as Box, he "entered the world a slave." He was put to work as a child and passed down from one generation to the next — as property. When he was an adult, his wife and children were sold away from him out of spite. Henry Brown watched as his family left bound in chains, headed to the deeper South. What more could be taken from him? But then hope — and help — came in the form of the Underground Railroad. Escape!

In stanzas of six lines each, each line representing one side of a box, celebrated poet Carole Boston Weatherford powerfully narrates Henry Brown's story of how he came to send himself in a box from slavery to freedom. Strikingly illustrated in rich hues and patterns by artist Michele Wood, Box is augmented with historical records and an introductory excerpt from Henry's own writing as well as a time line, notes from the author and illustrator, and a bibliography.
About the Author
---
Carole Boston Weatherford, a New York Times best-selling author and poet, was named the 2019 Washington Post Children's Book Guild Nonfiction Award winner. Her numerous books for children include the Coretta Scott King Author Award Honor Book Becoming Billie Holiday, illustrated by Floyd Cooper; the Caldecott Honor Books Moses: When Harriet Tubman Led Her People to Freedom, illustrated by Kadir Nelson, and Voice of Freedom: Fannie Lou Hamer, Spirit of the Civil Rights Movement, illustrated by Ekua Holmes, which was also a Robert F. Sibert Honor Book; and the critically acclaimed Schomburg: The Man Who Built a Library, illustrated by Eric Velasquez. Carole Boston Weatherford lives in Fayetteville, North Carolina.

Michele Wood is an illustrator, painter, filmmaker, and designer with a master's in divinity from Christian Theological Seminary. She has won numerous awards for her illustration work, including a Coretta Scott King Illustrator Award, as well as a nomination for an NAACP Image Award. Box: Henry Brown Mails Himself to Freedom is her first book with Candlewick Press. She lives in Indianapolis, Indiana.
Praise For…
---
Brown's story never gets old, and this illustrated biography is rich in context and detail that make it heavier on history and better for slightly older readers than, for instance, Ellen Levine and Kadir Nelson's Henry's Freedom Box (2007).Heartbreaking and legendary.
—Kirkus Reviews (starred review)

A powerful assortment of colors, textures, and artistic styles illustrate this true story of how Henry "Box" Brown escaped enslavement in 1849 via a harrowing journey inside a sealed crate...His traumatic, stifling two-day journey ("Baggage") from Virginia to Philadelphia occurs over several claustrophobic spreads. Elaborate mixed-media collages by Wood (Clap Your Hands) employ a box motif, featuring Escher-like cubes alongside folded paper and painted quilt squares. A timeline, notes, and bibliography conclude this rich retelling of Brown's courageous escape.
—Publishers Weekly (starred review)

An artful and introspective retelling of the life of a remarkable man and a painful era in U.S. history. Weatherford's text paired with Wood's illustrations combine to offer a memorable work of nonfiction.
—School Library Journal (starred review)

Weatherford's moving, poetic verse gives the story a very personal tone as the reader becomes immersed in Brown's harrowing tale of loss and sorrow and his determination to be free...The mixed-media art uses collage elements effectively. Deep reds and bright blues and greens figure prominently, giving the art a somewhat vintage feel while still being vivid and vibrant. The book ends powerfully with a poem titled "AXIOM": "Freedom / Is / Fragile. / Handle / With / Care."
—The Horn Book (starred review)

Alongside Weatherford's spare verses, Wood's paintings fairly explode with vivid visual motifs of quilts and confinement, with thickly brushed images rigidly squeezed and folded within borders that strain to hold them...Middle grade- and school readers are at an ideal age to begin unpacking Brown's story, and the harmonious interplay of word and image will invite youth with strong preference for either literary or visual formats to join in common discussion of the concept of freedom.
—Bulletin of the Center for Children's Books (starred review)

Mixed-media illustrations combine thickly textured figures and backgrounds, collage, and painted, folded paper to create images with three-dimensional qualities. As the illustrator says in her note, the pictures convey deep suffering, hope, and determination. Cubic shapes appear frequently, echoing and amplifying the six lines of each poem. Intended for older readers than Henry's Freedom Box (2007), the book artfully expresses difficult truths while being mindful of a child audience.
—Booklist