A Note About Website Availability
Titles listed on our website are not necessarily in stock at our physical storefront. If a book says "usually ships in 1-5 days," that means it should be available at our distributor's warehouses, but it does not indicate whether we have the book in stock at the shop. We have some lists on our home page of books that are usually on the shelves, but those are manually updated by us. It is not currently possible for us to manually update every title on the site with its in-store availability. The fastest way to check on a title or two is to give us a call at 617-734-7323. If you have a longer list, or if you have a little more time to wait for a response, send us an email or place an online order. Thank you for understanding!
You are here
Back to top
It's So Amazing!: A Book about Eggs, Sperm, Birth, Babies, and Families (The Family Library) (Paperback)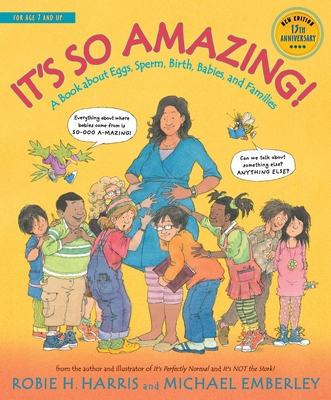 $12.99

Usually Ships in 1-5 Days
Description
---
"An outstanding book. . . . Meets the needs of those in-between or curious kids who are not ready, developmentally or emotionally, for It's Perfectly Normal." —Booklist (starred review)

How does a baby begin? What makes a baby male or female? How is a baby born? Children have plenty of questions about reproduction and babies—and about sex and sexuality, too. It's So Amazing! provides the answers—with fun, accurate, comic-book-style artwork and a clear, lively text that reflects the interests of children age seven and up in how things work, while giving them a healthy understanding of their bodies. Created by the author and illustrator of It's Perfectly Normal, this forthright and funny book has been newly updated for its fifteenth anniversary.
About the Author
---
Robie H. Harris says, "My challenge in writing IT'S SO AMAZING! was to weave the fascinating and complicated science facts about reproduction and birth into the story of the egg and the sperm, and to communicate to children in an honest and simple way how amazing this story really is!"


Michael Emberley says that while creating the illustrations for IT'S SO AMAZING!, he "tried to delicately balance age-appropriateness, absolute accuracy, honesty, and just plain fun."
Praise For…
---
This thoughtful, innovative, and comprehensive book helps children with issues that are on their minds anyway—and gives all of us the language we need to share with them.
—T. Berry Brazelton, MD, founder of Brazelton Touchpoints Center, Boston Children's Hospital, and Joshua Sparrow, MD, co-authors of "Touchpoints: Birth to Three" and "Touchpoints: Three to Six"

Even if your child hasn't reached puberty, talk with him or her about what lies ahead. If you'd like some help, check out the excellent picture book IT'S SO AMAZING! . . . It could help prepare your son or daughter - as well as reassure you.
—Time Magazine

It's a beauty; it's your privilege to use it. Enough said.
—Boston Globe

As a pediatrician, I know that children have many questions about reproduction, birth, bodies, babies, and families. Finding the answers, in a comfortable, appropriate, and interesting way, is an essential part of growing up healthy in body and mind. This book provides an opportunity for children to find answers to their questions with clarity of explanation, fabulous illustrations, and humor, together with an all-important sense of wonder.
—Perri Klass, MD, Professor of Journalism and Pediatrics, New York University

A cleverly illustrated guide to everything from adoption to zygotes.
—Child Magazine

Genuinely sweet, in a genre in which there's a fairly despicable tendency to be edgy, brash, and cool, as if what kids can put out must be what they need from grownups.…sensible, even existential, answers…honest and tender drawings.
—The New Yorker

[A] friendly and sensitive guide for younger children . . . Harris throughout manages to leave no stone unturned in this thoughtful, intelligent, and most importantly, exuberant celebration of the creation and operation of children and adult bodies . . . Parents looking for a way to keep embarrassment to a minimum when discussing sexuality with their young children will appreciate this book.
—Horn Book, starred review, The

. . . this provides sensible, reassuring answers to readers' questions and concerns, and interrupts the rain of information with occasional silliness.
—Kirkus Reviews, pointered review

Indeed, IT'S SO AMAZING! is written and illustrated with such thought that a child can hide way and study it.
—New York Times, The

Another barrier-breaking contribution by Harris and Emberley that seamlessly bridges IT'S PERFECTLY NORMAL and HAPPY BIRTH DAY! . . . An essential guide that will delight and inform and appeal to young readers as well as adults.
—School Library Journal, starred review

A well-loved tool for many parents, and one that has made 'the talk' more fun and relevant.
—Planned Parenthood.org

Emberley illustrates the rich diversity of bodies in a breathtakingly matter-of-fact way.
—Wondertime magazine

It's accurate, non-judgmental and comprehensive, yet there's no danger of information overload because humor is used to leaven the seriousness of the topics presented.
—Syndicated Column - Lynne Burke

Bright, comic-style illustrations featuring a knowledgable bird and an embarrassed bee. . . . Clear subject headings make the text easy to browse.
—Book Links