A Note About Website Availability
Titles listed on our website are not necessarily in stock at our physical storefront. If a book says "usually ships in 1-5 days," that means it should be available at our distributor's warehouses, but it does not indicate whether we have the book in stock at the shop. We have some lists on our home page of books that are usually on the shelves, but those are manually updated by us. It is not currently possible for us to manually update every title on the site with its in-store availability. The fastest way to check on a title or two is to give us a call at 617-734-7323. If you have a longer list, or if you have a little more time to wait for a response, send us an email or place an online order. Thank you for understanding!
You are here
Back to top
Almost Flying (Hardcover)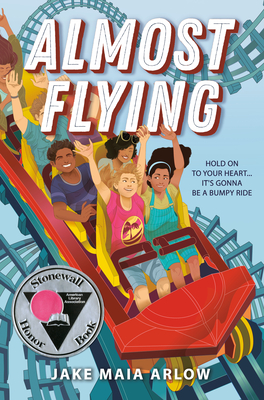 $17.99

Usually Ships in 1-5 Days
Description
---
In this Stonewall Honor book, a week-long amusement park road trip becomes a true roller coaster of emotion when Dalia realizes she has more-than-friend feelings for her new bestie.

A Stonewall Honor Book

Cover may vary.

"Dalia's journey to self-discovery is refreshingly honest, and this entire cast of characters will steal your heart." – Maulik Pancholy, actor and Stonewall Honor-winning author of The Best At It

Would-be amusement park aficionado Dalia only has two items on her summer bucket list: (1) finally ride a roller coaster and (2) figure out how to make a new best friend. But when her dad suddenly announces that he's engaged, Dalia's schemes come to a screeching halt. With
Dalia's future stepsister Alexa heading back to college soon, the grown-ups want the girls to spend the last weeks of summer bonding--meaning Alexa has to cancel the amusement park road trip she's been planning for months. Luckily Dalia comes up with a new plan: If she joins Alexa on her trip and brings Rani, the new girl from her swim team, along maybe she can have the perfect summer after all. But what starts out as a week of funnel cakes and Lazy River rides goes off the rails when Dalia discovers that Alexa's girlfriend is joining the trip. And keeping Alexa's secret makes Dalia realize one of her own: She might have more-than-friend feelings for Rani.
About the Author
---
Jake Maia Arlow is a podcast producer, writer, and bagel connoisseur. She studied evolutionary biology and creative writing (not as different as you might think) at Barnard College. They live with their girlfriend and their loud cat in the Pacific Northwest.

Praise For…
---
A 2022 Stonewall Honor Book

"Almost Flying  is a thrilling celebration of all the twists and turns, breathtaking jumps and heart-pounding falls of a first crush. Dalia's journey to self-discovery is refreshingly honest, and this entire cast of characters will steal your heart. Every middle schooler will want to take this ride." – Maulik Pancholy, actor and Stonewall Honor-winning author of The Best At It

"Fierce and tender all at once, Almost Flying is a soaring roller coaster ride of a book that stole my breath with every heartwarming twist and each empowering turn." –Ashley Herring Blake, Stonewall Honor-winning author of Ivy Aberdeen's Letter to the World

"A story about the messiness of family, the confusion and awkwardness of a first crush, and the bonds that can only exist between older and younger queer teens. This charming debut had my heart soaring." –Nicole Melleby, author of Hurricane Season and In the Role of Brie Hutchens…

"A delightfully queer-positive and engrossing road trip story." –Booklist

"While this book contains many elements that are widely relatable, the storyline around exploring sexuality is especially resonant… A heartwarming, queer-affirming story." –Kirkus