A Note About Website Availability
Titles listed on our website are not necessarily in stock at our physical storefront. If a book says "usually ships in 1-5 days," that means it should be available at our distributor's warehouses, but it does not indicate whether we have the book in stock at the shop. We have some lists on our home page of books that are usually on the shelves, but those are manually updated by us. It is not currently possible for us to manually update every title on the site with its in-store availability. The fastest way to check on a title or two is to give us a call at 617-734-7323. If you have a longer list, or if you have a little more time to wait for a response, send us an email or place an online order. Thank you for understanding!
You are here
Back to top
Four Famished Foxes and Fosdyke (Paperback)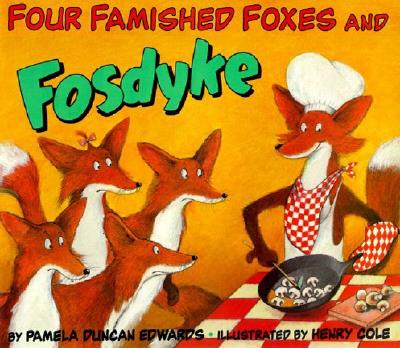 $7.99
Email or call for price
Description
---
One Fine Fox
Four famished foxes make fun of their brother Fosdyke, who feels fondly for fried figs, fennel, and French bread. Leaving him behind to fry and flambé, they go foraging for fowl in a forbidden farmyard. Unfortunately, the foxes find the fowl forwarned. Foiled, they return to their den. Will they ever filch a fabulous farmyard feast? Or will they forgo fowl and finally admit that "a fox is a fox whatever the food"?
About the Author
---
Pamela Duncan Edwards is the author of numerous popular picture books, including Livingstone Mouse; Roar! A Noisy Counting Book; Some Smug Slug; The Worrywarts; Clara Caterpillar; Wake-Up Kisses; Rosie's Roses; The Leprechaun's Gold; and Gigi and Lulu's Gigantic Fight, all illustrated by Henry Cole; as well as Dear Tooth Fairy, illustrated by Marie-Louise Fitzpatrick; McGillycuddy Could!, illustrated by Sue Porter; and The Neat Line, illustrated by Diana Cain Bluthenthal. She lives in Virginia.
Henry Cole was a celebrated science teacher for many years before turning his talents to children's books. He has worked on nearly one hundred and fifty books for children, including Unspoken, Big Bug, A Nest for Celeste, Jack's Garden, and On Meadowview Street. Henry loves being outside, where he can sketch and write. His favorite sound is the first robin song of the spring. You can visit him online at www.henrycole.net.